The great tuxedo debate: Can you bend the rules at a black tie requested affair?
Picture this: I was in my 20s and found myself tumbling down a research rabbit hole, wondering if I could cleverly dress up a black suit with a black bow tie to avoid the cost and embarrassment of not having a tuxedo for a black tie wedding. At the time, there were no reasonable and realistic resources to answer the question. Fast forward to now, and you may be asking a similar question: when a dress code is "black tie requested," is it required to wear a tuxedo, or can you wear a suit? And you're likely only coming across fashion magazines with unreasonable answers or Quora answers that seem…not quite right.
It's no secret that formal weddings are becoming less common. In 2020, only 16% of weddings in the United States were classified as formal, compared to 25% in 2019, according to a survey by The Knot. With this shift, the confusion around black tie dress codes has only grown.
The tuxedo can be traced back to 1885 with King Edward VII's adoption of a blue silk smoking jacket with matching trousers, which also showed up in America the next year as the modern tuxedo as an "edgy" tail-less version of a formal dress coat. It was a bit like when guys started dressing down their suits with sneakers – the classically dressed were appalled, but the fashion trend took root. A classic black tie dress code ensemble typically includes a white dress shirt with a bibbed front, black formal trousers, black patent leather shoes or velvet slippers, a suit jacket known also known as a dinner jacket with satin lapels, buttons, and pockets, and, of course, a bow tie.
The rules of black tie are a form of manners. You dress up to show respect to your hosts and the other guests. You follow the rules to show you understand the importance of the occasion. You dress smartly to show you take the occasion seriously.
But what happens when you find yourself in a black tie dress code situation without access to a tuxedo? Do you just – not go? Or when a wedding is labeled "black tie requested" or "black tie optional"? Guests face the dilemma of whether to opt for a tuxedo or a suit, with concerns ranging from fitting in with the dress code to showing respect for the couple.
For both situations, wondering if you can wear a suit to a black tie affair, to one where the invitation uses the terms, "black tie optional," "black tie requested," or "black tie preferred," the framework I've devised is based on three factors: whether the host and guests will Know, Notice, and Care about your attire.
More on that in a moment.
But first, to make a confident decision, it's important to know –
What's the Difference Between a Tux and a Suit?
From a distance, it's easy to assume a tuxedo is just a black suit worn with a bow tie, but there are actually some important visual differences between the two:
Fabric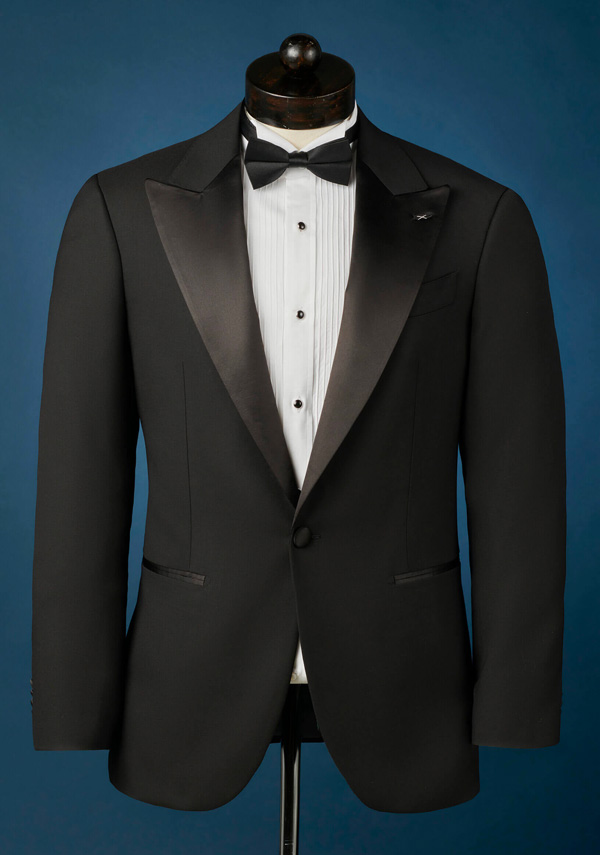 Tuxedos: Made from black wool or mohair blends, their soft and fine barathea or patterned weave whispers "I'm fancy" in a not-so-subtle manner.
Suits: Offering the versatility of a chameleon, suits come in a smorgasbord of materials and colors, including wools of different weights, cotton, linen, synthetics, and heartier materials like tweed.
Jacket
Tuxedos: Sporting either a single or double-breasted style with peak lapels or a shawl collar, tuxedo jackets feature lapels faced with silk or grosgrain material—that provides an elegant sheen in contrast to the rest of the jacket. There are modern tuxedos that also offer notch lapels, which traditionally are used on suits and sportcoats. If single-breasted, tuxedos historically only have one button.
Suits: Suit jackets are more laid-back, with lapels and buttons made from the same material as the rest of the suit. They most commonly have notch lapels, sometimes peak lapels, almost never shawl lapels. Single-breasted suits almost always have a minimum of two buttons, and three is quite common as well.
Buttons
Tuxedos: Tuxedo buttons are covered with plain or grosgrain silk to further match and blend in with the material of the jacket.
Suits: Suit buttons, on the other hand look like traditional buttons.
Trousers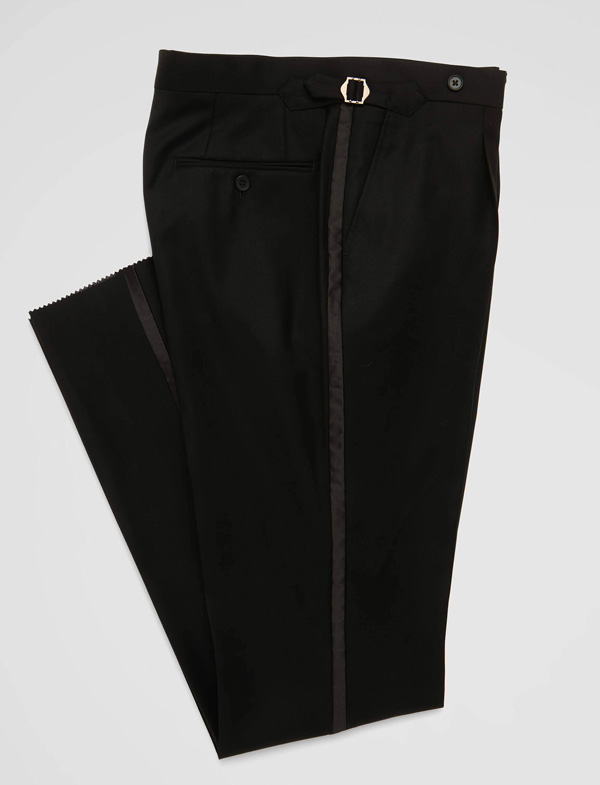 Tuxedos: The iconic tuxedo trouser, the literal Fancy Pants of the pant universe, comes adorned with a single stripe over the side seam, that often matches the material used on the lapel. This stripe, reminiscent of military attire like the Marines' dress blues, creates a formal, distinguished appearance. Tuxedo pants also ditch belt loops in exchange for side adjusters or suspender buttons to hold themselves up.
Suits: Suit trousers are more down-to-earth, featuring belt loops and occasionally cuffs.
Waist Covering
Tuxedos: Historically a cummerbund or waistcoat (vest) is required with a single-breasted tuxedo ensemble. If you choose to forgo both, it wouldn't be the end of the world.
Suits: While three piece options are stylish and readily available, vests are optional for suits.
Shirt
Tuxedos: Tuxedo shirts come in various styles to suit your taste, including covered placket for a button-less appearance, pleated front, piqué bib front, and plain front. Pleated front tuxedo shirts feature 10 pleats on each side, made from the shirt fabric itself. Piqué bib front shirts have a special piqué fabric sewn onto the front, offering an elegant and subtly textured appearance. Plain front tuxedo shirts resemble French fronts (a button pleat with no visible seams), with removable top four buttons to accommodate tuxedo studs for a modern, minimalist look. The buttons on tuxedo shirts are smaller than a regular button up shirt.
The little black things on tuxedo shirts are called "studs." They are decorative fasteners that replace the top four buttons on the shirt front, adding an elegant touch to the formal attire. Tuxedo studs come in various materials and designs, such as black onyx, mother of pearl, or gold, and are typically worn in a set that complements the cufflinks.
Recommended collar styles for tuxedo shirts include the English Spread collar or President Spread collar, which accommodate bow ties, or the Wingtip collar for a more traditional look. For cuffs, French cuffs are suggested for a formal touch, although barrel cuffs are also acceptable.
Suits: Suit shirts are the buffet of the shirt world, with limitless options in terms of color, pattern, cuff, collar, and button styles—go wild, my friend.
Neckwear
Tuxedos: A black self-tied silk bow tie is the pièce de résistance for a tuxedo, though a long silk necktie is allowed for those feeling slightly less formal.
Suits: With a suit, the tie world is your oyster, offering a cornucopia of colors, patterns, widths, and materials to suit your every whim.
Tuxedos: Tuxedos demand black patent leather or highly polished calfskin or cordovan shoes—because you can't spell "dashing" without "shin(y)."
Suits: Suits provide more freedom in the footwear department, like a permission slip to wear any dress shoe style or color that tickles your tootsies.
Socks
Tuxedos: Black silk over-the-calf socks are the perfect pairing for tuxedos, creating a seamless transition from pant to shoe.
Suits: Suits let you express your personality through sock choices, allowing for a variety of materials, colors, and patterns.
Accessories
Tuxedos: Harmonizing studs and cufflinks, along with a single red or white flower boutonniere, complete the tuxedo look.
Suits: Suit accessories are like a blank canvas, offering a range of possibilities from classic cufflinks to colorful pocket squares and tie bars.
Great, so…
Can You Wear a Black Suit Instead of a Tuxedo to Black Tie?
If you read that whole breakdown and thought, "this is all silly and no one where I'm going is going to know any of this," then you've answered the first part of my framework, Know, Notice, Care.
Know
Strictly speaking, and in a classic Emily-Post-manners answer, if you are invited to something indicating black tie as the dress code, you should decline the invitation if you don't have the ability to wear a tuxedo. But realistically in today's modern world that's a bit well…black and white. But if black ties is being requested, you should attempt to get as close to it as you can. Can you just wear a black suit, tuxedo shirt, and bow tie – a, if I may, fauxedo – and call it a day?
My framework requires some guessing and some, perhaps, potentially impolite assumptions.
You see, the art of interpreting dress codes is as much about knowing your host as it is about understanding fashion. Take, for example, your buddy's wedding where the dress code is "black tie." You know the guy – he's the one who wore the same pair of khakis to work every day for five years straight. In this situation, it's reasonable to assume that your adherence to "black tie" might be a touch more strict than his. But maybe he's marrying a Kennedy and they're the ones requesting black tie – so, what's an anxious wedding guest to do?
The key lies in striking a delicate balance between respecting the event's formality and not disrespecting the host. If you suspect the dress code is more about creating an atmosphere of elegance and sophistication than adhering to strict fashion rules, then one of our Plan B options below will suffice.
Will the hosts and other guests know everything I laid out above about the differences between a tuxedo and a black suit? Realistically, most will not not. And even if they do, will the nature of the event allow them to:
Notice
Is this event happening in the evening or a dimly lit venue? Will there be hundreds or thousands of people attending? Are you a mere "seat filling" background decoration and not a person who will be receiving any official attention at the event such as a wedding party member, honoree, or speaker? Then you have to ask yourself, "Even if If I wear my fauxedo, and there are people who will Know, will anyone even be able to Notice?"
And finally, even if they Know and Notice, will your hosts actually:
Care
While donning a black suit to a black-tie event might not be the epitome of sartorial perfection, more often than not, gracious hosts are likely to value your presence over a strict adherence to the dress code. After all, the most memorable occasions are built on the foundation of good company, shared laughter, and warm connections, rather than the meticulous policing of attire.
In the grand scheme of things, the most important aspect is being present and enjoying the event while dressed with intention and respect, even if your outfit isn't a perfect match for the dress code.
This holds truer for personal events such as a wedding or attending a family member's award ceremony rather than more official social occasions like a formal gala, social club soiree, or some royal shenanigans you've inadvertently found yourself obliged to attend.
In a Pinch, Wear a Fauxedo
What's more "undercover secret agent" than being a fish out of water pretending to be someone who has a tuxedo? If you've worked through the Know, Notice, Care framework and still want to get as close to the black tie effect as you can, opt for what I call the fauxedo: A normal black suit with a tuxedo shirt and bow tie you get off Amazon. You'll be 70% of the way to black tie, just missing the proper lapels, buttons, and pant adornments, but again, if you're just going to a formal night on a cruise with your spouse, one time, 70% is all you need.
Did you know?
The tuxedo was initially seen as a rebellious fashion statement, as it went against the traditional dress code of tailcoats and formal attire. Perhaps you're just carrying the tradition forward?
Can You Wear a Suit to Black Tie Optional?
In his book, Men's Style, Canadian fashion columnist Russell Smith explains that the "black tie optional" designation often reflects the host's uncertainty: "It means that the planners of the party began by envisioning a glittering formal affair… And so they wrote 'Black Tie' on the invitations – and then immediately had doubts…What if we are excluding those without resources to own a dinner jacket?"
In situations where buying or renting a tuxedo is simply not possible, there are still ways to put together a stylish and appropriate ensemble. The key is to focus on achieving a polished and refined look, while still adhering to the spirit of the dress code.
For my friend's wedding I mentioned earlier, unsure of whether to wear a tuxedo or a suit, I decided to wear a dark suit, and to my relief, I blended in perfectly with the other guests. The lesson here is that you can never be entirely sure about the formality of an event, but you can make an educated guess based on your relationship with the host, their personal style, the venue, and other factors.
Sid Mashburn, founder of the eponymous men's clothing brand, offers advice for those unsure of how to dress for a Black Tie Optional wedding, "You basically want to look like the dressiest guy there, without putting a tuxedo on. Or minimally, blend in and respect the dress code that was put out there. This is not the time to stand out. So if I got that invite, that leaves me really 2 options, and both revolve around a suit. Option 1: I'm going dark, dark, dark navy; or Option 2: I'm going mid-to-dark gray – the darker the better, preferably charcoal."
Alternatives to Black Tie for Black Tie Optional
Let's call them "Plan B" ensembles, shall we?
First, there's the "Business Bond" look.
This consists of a sleek, black suit paired with a crisp white shirt, a black tie, and black dress shoes. Sure, it's not as glamorous as a tuxedo, but it's still James Bond-esque. Just imagine yourself sipping a martini while making a witty comment about the hors d'oeuvres. And if anyone questions your choice of attire, simply raise an eyebrow and say, "I'm an embedded agent. Don't blow my cover."
Or, go for the Charcool & Collected.
A black tie alternative that maximizes the use of your existing wardrobe. Simply pair your charcoal suit with a classic white shirt and a black tie for a look that's both timeless and modern.
A well-fitted dark charcoal suit is a smart investment that can be worn for various occasions, from weddings to job interviews and beyond. By adding a few accessories like a pocket square or cufflinks, you can easily dress up your suit and make it appropriate for a more formal event.
Next up, we have the "Midnight Mischief" outfit.
This is for those who want to add a touch of whimsy to the evening without resorting to the full tuxedo. Pair a black suit with a black shirt and a black tie. If anyone asks about your ensemble, simply wink and say, "I'm here to cause a little trouble. Care to join me?"
Finally, there's the "Rebel Without a Tux" option.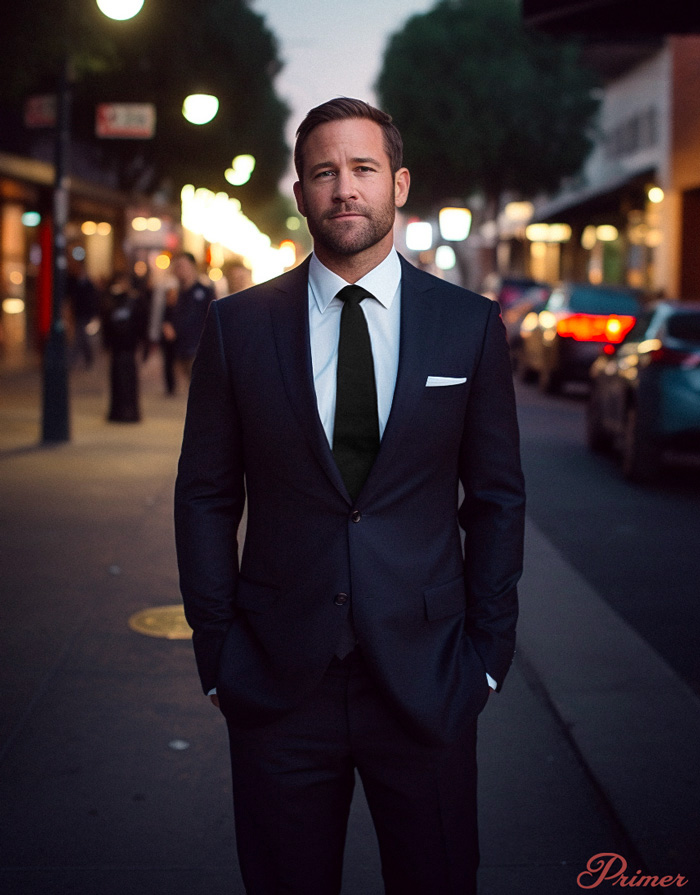 Embrace your inner rule-breaker and go for a suit in a deep navy. Pair it with a white shirt, a black tie, and a devil-may-care attitude. If anyone dares to question your attire, just shrug and say, "I left my tuxedo at home – along with my manners."
Nailing the important details:
Avoid button down collars as these are considered more casual. Instead, opt for a semi spread or spread collar dress shirt
Avoid additions like tie bars, as these are usually not present when wearing a tuxedo
A pocket square should be white or avoided
So, the next time you find yourself agonizing over what to wear to a fancy event, remember this simple truth: it's less about the clothes you're wearing and more about the company you're keeping. As long as you approach the event with grace, humor, and a good attitude, chances are you'll fit in just fine – even if your interpretation of "black tie" leaves something to be desired.
It's essential to remember that the ultimate goal is to celebrate the couple and enjoy the event. While traditional etiquette suggests declining the invitation if you can't adhere to the dress code, it's unlikely that your friend would want you to miss their special day over a wardrobe choice. So, take a deep breath, weigh your options, and make the best decision you can based on the information available. In the end, it's the thought, effort, and respect you show that truly matters.
Source link

#Tux #Suit #Explained #Wear #Suit #Black #Tie #Hot