Your eyes are incredibly sensitive so it makes sense to take extra precaution when choosing eye creams and the makeup you're using around your eye area. If you've already made the switch to clean mascara, it's time to trade in your old pencils for these makeup-artist recommended natural eyeliner picks.

Meet the Experts

Kerrin Jackson, makeup artist and creator of The Makeup Refinery

Matthew Waitesmith, makeup artist and co-founder of Artis

Hadley King, M.D., a dermatologist at Skinney Med Spa and instructor at the Weill Medical College of Cornell University

Mary Winkenwerder, make-up artist
Why Clean Beauty
Chances are, you've at least heard about clean beauty, the new wave of beauty products that are flipping the industry on its head. As it turns out, there is no FDA-approval process for cosmetics, which means that the ingredients used in your favorite beauty products are not being monitored the way the ones in your food are. In fact, U.S. law doesn't require any ingredients being used in cosmetic products, aside from color additives, to be approved or regulated. As such, some pretty concerning chemicals could be lurking in some of the beauty products you've been using for years. 
This is why clean beauty is having such a moment. The concept refers to cosmetic products that are formulated without the use of potentially harmful ingredients such as synthetic chemicals. Some clean beauty products stretch even further, providing transparency about ingredient sourcing, packaging, and sustainability to their customers, notes Kerrin Jackson, a 4-time Emmy-nominated makeup artist and creator of The Makeup Refinery. "In marketing terms, clean beauty has come to represent a complete awareness of beauty lifestyle choices and the consequences of those choices on ourselves and our greater environment," she adds.
Opting for clean beauty is a wise decision, particularly when it comes to the makeup you're using around your eye area, such as eyeliner. The eye area itself is incredibly sensitive, especially the skin around the eye, which is very thin, fragile, and prone to dehydration.
"Since eyeliner products are used so close to the eye, and considering how important it is to protect this area, you should avoid any ingredients that you may have established a sensitivity to and have a reaction to," says makeup artist and co-founder of Artis, Matthew Waitesmith. "You can find products that either avoid traditional preservative ingredients or keep them at a minimum."
What to look for in a natural eyeliner
According to beauty experts, if you're shopping for an eyeliner that falls under the category of "clean," here are a few things you should be looking for. 
Free from harmful chemicals
The laundry list of chemicals to look out for to ensure your eyeliner is clean is quite long—it includes parabens, aluminum, formaldehyde (yes, like in embalming), petroleum, talc, triclosan, and silica, just to name a few. Research, including one study published in the journal, Molecular and Cellular Endocrinology, has linked parabens to a myriad of hormonal disorders, including cancer [source]. 
Plant-based ingredients
Whenever possible, Jackson recommends purchasing eyeliners that contain plant-based waxes instead of synthetics. "The Rhus Verniciflua Peel Wax found in W3LL People's Fresh Lines Eyeliner Pencil is a known alternative to beeswax, for example," she says. "Jojoba seed oil, which is found in both the W3LL People Pencil I mentioned and products from Honest Beauty, is known to treat and condition the skin."
Organic
,
when possible
Whenever you can, you should seek out the title "organic" in your clean eyeliners. If an eyeliner is certified organic, at least 95 percent of the materials used are organic compliant per the USDA. This means they are handled and manufactured in an organic manner that does not use any genetically modified organisms. It's worth pointing out that this certification is quite pricey, so just because a clean beauty product isn't "organic" per its label doesn't mean it's not actually organic by USDA standards. 
Vegan and cruelty-free
It's a great thing when a clean beauty product, such as an eyeliner, is vegan and cruelty-free. This means the products were not tested on animals and do not contain any animal by-products (beeswax, lanolin, honey, tallow). 
Sustainability
A quality clean product should be sustainable, meaning that its manufacturing and packaging are not causing harm to the planet. Most sustainable beauty products come in biodegradable or recycled packaging and contribute to a TerraCycle program.
Ophthalmologist-tested
Eyeliners that are hypo-allergenic and ophthalmologist tested are the safest for your eye area." This means that the odds of your eyes reacting to the product are minimized and that a product is fragrance-free," says Jackson.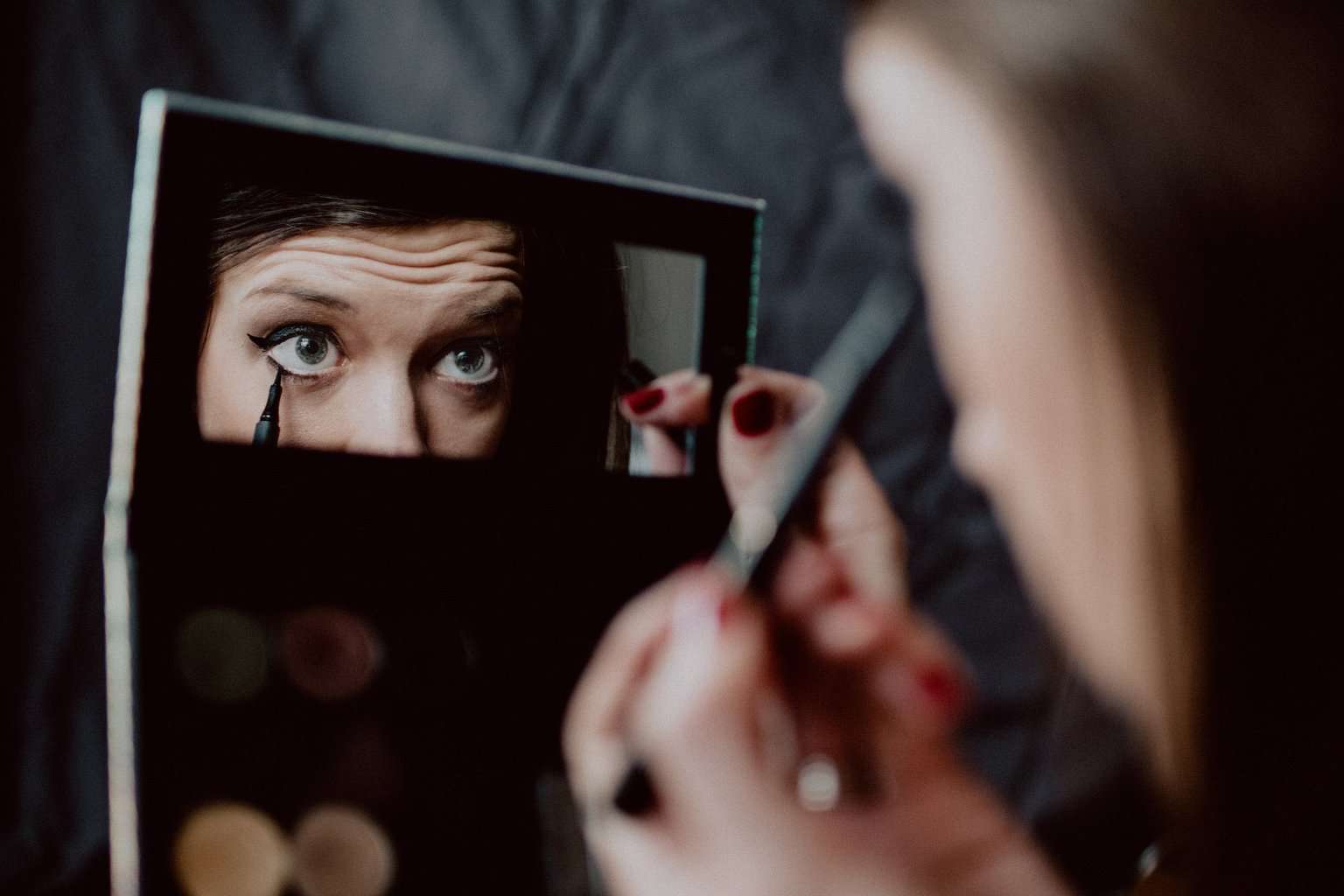 The best clean eyeliners on the market
Here are some hand-picked clean eyeliners recommended by the makeup artists we interviewed.
 W3LL People Fresh Lines Eye Pencil
The list of ingredients in a product starts with the ingredient having the largest quantity, so it's nice to see that castor seed oil is the first in this eye pencil. Castor seed oil is safe when used in small doses and is a natural emollient. It's rich in ricinoleic acid, a type of monounsaturated fatty acid [source], so it helps prevent dryness around your eye area. This product is also vegan and formulated without the use of harsh chemicals or preservatives. 
 PUR Beauty On Point Eyeliner Pencil
In addition to being free of parabens, phthalates, and cyclical silicones, this self-sharpening gel eyeliner pencil is top-notch in terms of its performance. "It maintains a fine tip for precise and easy application, and the waterproof formulation stays on for long wear," says Hadley King, M.D., a dermatologist at Skinney Med Spa and clinical instructor of dermatology at the Weill Medical College of Cornell University. "The formulation includes moisturizing ingredients like sunflower seed oil, vitamin E, and panthenol to support the delicate skin of the eyelids." 
 Butter London Power Up All Day Wear Liquid Eyeliner
If you're more of a liquid liner person, this one has a smooth and creamy texture and a flexible precision tip, which makes for easy application. "In addition to being vegan, cruelty-free, and paraben-free, this one uses the natural ingredient glycerin, which hydrates the skin, and polymers that add to its durability," says Dr. King. It's also water-resistant, which is ideal for long wear. 
 NakedPoppy Clean Liquid Eyeliner
This eyeliner bears the EWG VERIFIED™ mark, which means it meets the Environmental Working Group's strict standards for health and safety—avoiding any and all ingredients on their "Unacceptable List." Dr. King is a fan of the ingredients it does use, including cornflower water, which soothes the skin, and iron oxide, which provides natural pigment. "This product is cruelty-free and free of parabens, phthalates, and cyclical silicones," she says. "It also has a precise tip for easy application and doesn't smudge."
 Honest Beauty Vibeliner
For less than $10, you can score a high-quality pencil eyeliner made without harmful chemicals like carbon black pigment, which has been found to have carcinogenic properties. "Honest really does live up to its name with complete transparency about what's in and what isn't in its products," says Jackson. "What I love about Honest is that, despite using plant-based ingredients and few synthetic chemicals, there is no compromise on quality—and they are still affordable as well."
 Earth Lab Vegan Mineral Eye Pencil
Make-up artist Mary Winkenwerder is a big fan of this pencil eyeliner that produces rich color without fading, wears well for a long time, and has a flawless application. "While liquid eyeliner is more popular with high-fashion stencil eye designs, this one steps in and produces a usable fill-in for basic stencil eye lining designs," she adds. 
 bareMinerals Maximist Liquid Eyeliner
If you enjoy wearing highly defined lines around your eyes, Winkenwerder recommends this clean eyeliner, which can be worn on bare eyes or drawn over completed eye shadow statements. "All your clean beauty and high-fashion eyeliner expectations come true with this product," she says. It's free of parabens, gluten, fragrance, SLS, PEG, and the list goes on. It's also cruelty-free and vegan. 

Photos by Sujeeth Potla and Kelly Sikkema on Unsplash