The other day MBW jokingly remarked that the global music business had become a little "cozy" this summer – with a distinct lack of companies (publicly) falling out.
Please, loyal reader, allows us to scratch that idea from the record.
Today (July 24), MBW has confirmed that Kobalt Music Publishing – home to 700,000 songs – is pulling its entire catalog from Facebook and Instagram in the United States.
Why is Kobalt taking this action?
According to a memo sent to Kobalt writers and partners yesterday (July 23), obtained by MBW, Kobalt's existing US licensing deal with Meta (parent company of Facebook and Insta) has expired – and the two parties have failed to reach a new agreement.
"Over the course of several months, we've worked diligently and in good faith to come to an agreement covering a new license for Kobalt's repertoire," reads the memo (which you can see in full below).
"Unfortunately, fundamental differences remained that we were not able to resolve in your best interests, and as a result Kobalt's repertoire is in the process of being removed from Meta's services, including Facebook and Instagram, in the United States."
Tellingly, the note adds: "We've always stood for songwriters first, and we're proud to continue to do so. We remain fully committed to reaching an agreement with Meta."
---
---
Kobalt's decision to pull its catalog has ramifications far beyond its own company.
Kobalt estimates that it is the publisher of songwriters behind over 40% of the Top 100 tracks and albums in any typical week in both the UK and US.
The removal of Kobalt's publishing catalog will, therefore, inevitably affect a wide range of hits distributed/signed to the three major record companies, not to mention various independent distributors/labels globally.
Interestingly, today's news comes just a few days after another prominent music rights-holder – the $1.4 billion-valued Epidemic Sound in Sweden – filed a lawsuit against Meta in the US, claiming that "the unauthorized use" of its works across Facebook and Instagram "is rampant".
Epidemic is demanding damages in excess of $142 million from Meta due to this alleged infringement.
Epidemic's complaint (which you can read in full here) reads: "Meta has refused to enter into a license with Epidemic, even though Meta has done so with many other rights holders.
"Perhaps Meta is hoping to get away with it for as long as possible. Perhaps Meta is hoping that it will intimidate a company like Epidemic into bowing to Meta rather than incurring the disruption and expense of a lawsuit. Meta is wrong."
---
Following Epidemic's lawsuits, and now the confirmation of Kobalt's copyright takedown from Meta, a few obvious questions begin to arise:
What's behind Kobalt's refusal to sign a new deal (so far) with Meta? Could it be to do with the quality of data its songwriters are receiving, the quantity of money its songwriters are receiving – or both? 
Could more big-money lawsuits follow as a result, pitting the wider music business against one of tech's most mighty giants?
Will other major music rightsholders emulate Kobalt's refusal to ink a new agreement with Mark Zuckerberg's company?
What consequences will there be if hits created or co-created by Kobalt writers – now officially unlicensed for use on Facebook and Insta – continue to be published on these platforms?
One thing we know for sure: A lot of money is at stake here.
According to its latest Music In The Air report, Goldman Sachs estimates that Facebook contributed 29% of all 'emerging platform' advertising revenues paid to the record industry in 2021.
That 29%, MBW calculates (based on Goldman/IFPI numbers), equated to just over $400 million.
Remember: That's just for one year, and only covers money paid to the record industry (not the music publishing business).
---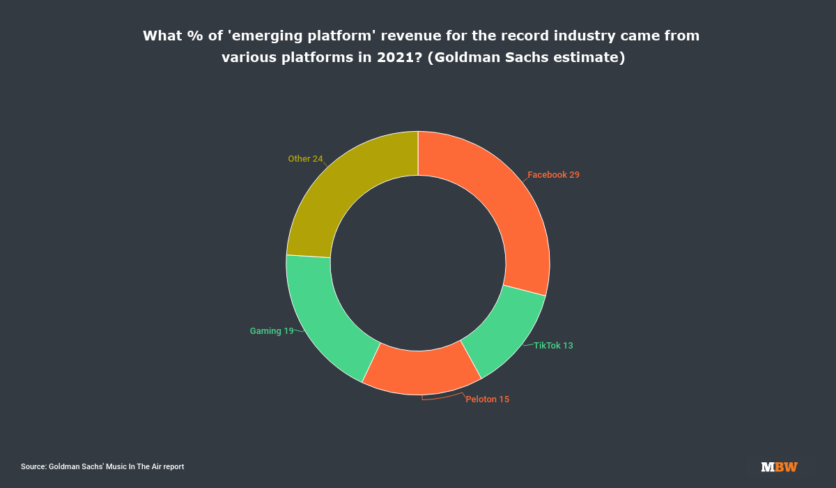 ---
Sources tell MBW that Meta currently continues to pay the music business via upfront advances that are not tied to precise music consumption on its platforms.
Calls appear to be growing louder for Meta (as well as TikTok) to switch this payout model to a 'revenue share' system – under which music rightsholders would be paid a direct share of the advertising revenue their copyrights generated on the platform.
Denis Ladegaillerie, CEO of Believe, discussed that topic in an interview earlier this month.
"Yes [we want to see a Content ID equivalent from Meta], and that is something we have expressed to them. But I would also say with Facebook and Instagram that we've seen a better quality of data [than from other social media services]."

Denis Ladegaillerie, Believe
We asked him if "impatience is creeping in" over Facebook's failure to launch a direct equivalent to YouTube's Content ID system for music rightsholders.
He replied: "Yes, and that is something we have expressed to them. But I would also say with Facebook and Instagram that we've seen a better quality of data [than from other social media services].
"We're pretty happy with that. And the level of monetization [paid out, versus the consumption happening] on Facebook/Instagram is aligned to what it should be when you look at usage.
"Plus we're able to see reports on the usage of the tracks to [account to] artists, as we should."Music Business Worldwide