Jojoba oil is one of the most widely used oils in skin and hair care. It has long been used to condition hair, treat scalp disorders, and promote hair growth. Read on to find out why you should soak up the benefits of jojoba oil for your hair.
Meet the Experts

Bridgette Hill, certified trichologist and professional hair colorist

Quia Querisma, a professional hair stylist

Medically reviewed by Dr. Gina Jansheski, MD
What Is Jojoba Oil
?
Jojoba is not actually a true oil—rather, it's a liquid wax. That's why its consistency is so similar to human sebum, the oil our bodies naturally produce [source]. Its waxy nature makes it easily absorbed and also adds a protective layer to help skin and hair retain moisture.
It has a light yellow color, a slightly nutty taste, and a long shelf life due to its natural antioxidants.
Jojoba oil comes from the jojoba plant, which grows naturally in North America, mainly in southern Arizona and California, as well as northwestern Mexico [source]. It doesn't necessarily look like anything special—just a bush of greens with leathery leaves and seeds that produce a unique oil. It's these seeds that are the most treasured, especially for their benefits in the haircare department.
"The seeds contain loads of vitamin C, copper, zinc, and vitamin B and have been anecdotally given credit for treating skin and scalp disorders, superficial wounds, immunity, and hair growth," explains Bridgette Hill, certified trichologist and professional hair colorist.
Jojoba Oil Benefits for Hair
Jojoba oil contains a bevy of nutrients, including copper, zinc, vitamin E, and B vitamins [source] that nourish your strands. As a certified trichologist and student of hair science, Hill has seen firsthand how integrating jojoba oil into her practice to manage certain concerns and conditions unique to the individual client has paid off—big time. "I discovered that quality is key when dealing with such a powerful ester-based oil like jojoba," she says.
1. Fights flakes
Jojoba oil's natural nutrients and fatty acids work together to combat and manage dandruff both as a pre-shampoo scalp treatment and when applied topically. It can be used 2 to 3 times a week for management, according to Hill. "I believe fatty acids, like those that jojoba oil contains, are excellent in pre-shampoo scalp treatments for all hair types and textures and scalp conditions not under medical care."
2. Hydrates dry hair
As with most oils, jojoba oil is very hydrating. It penetrates deeply into the skin without feeling greasy or leaving a residue [source]. And it has been shown to improve the penetration of other products [source]. Its waxy consistency forms a protective film on the scalp and hair, making strands silky smooth and soft.
The vitamin E and other antioxidant compounds it contains are especially useful for dry hair because they combat oxidative stress caused by environmental pollutants like the sun. Plus, jojoba oil is a humectant, which means that it helps attract water and maintain it on the surface of the skin or hair [source].
3. Battles bacteria
Jojoba oil contains antibacterial and antifungal properties [source], which means that it has the ability to actually cleanse a surface, reducing bacteria or fungi in its way. This can aid in the treatment of scalp issues, like flakes or dandruff, making it especially ideal for use as a pre-shampoo treatment, notes Hill.
4. Adds shine
Just a little jojoba oil added to hair gives instant shine. The hydrating wax seals the cuticle on the hair shaft for smoother, frizz-free hair.
5. Treats dry scalp
Jojoba oil makes an excellent conditioning treatment for dry hair and scalps. "Its wax composition makes it the only oil, in my opinion, that is excellent for use on the scalp to manage compromised skin barrier issues such as eczema, seborrheic dermatitis, and psoriasis," notes Hill. 
6. Reduces breakage
Jojoba oil is a helpful addition to your haircare routine if you're looking to strengthen your strands. By conditioning and coating each hair follicle, jojoba oil reduces protein loss, protects hair strands, and reduces the risk of breakage [source]. The result is fuller-looking hair!
How to Use Jojoba Oil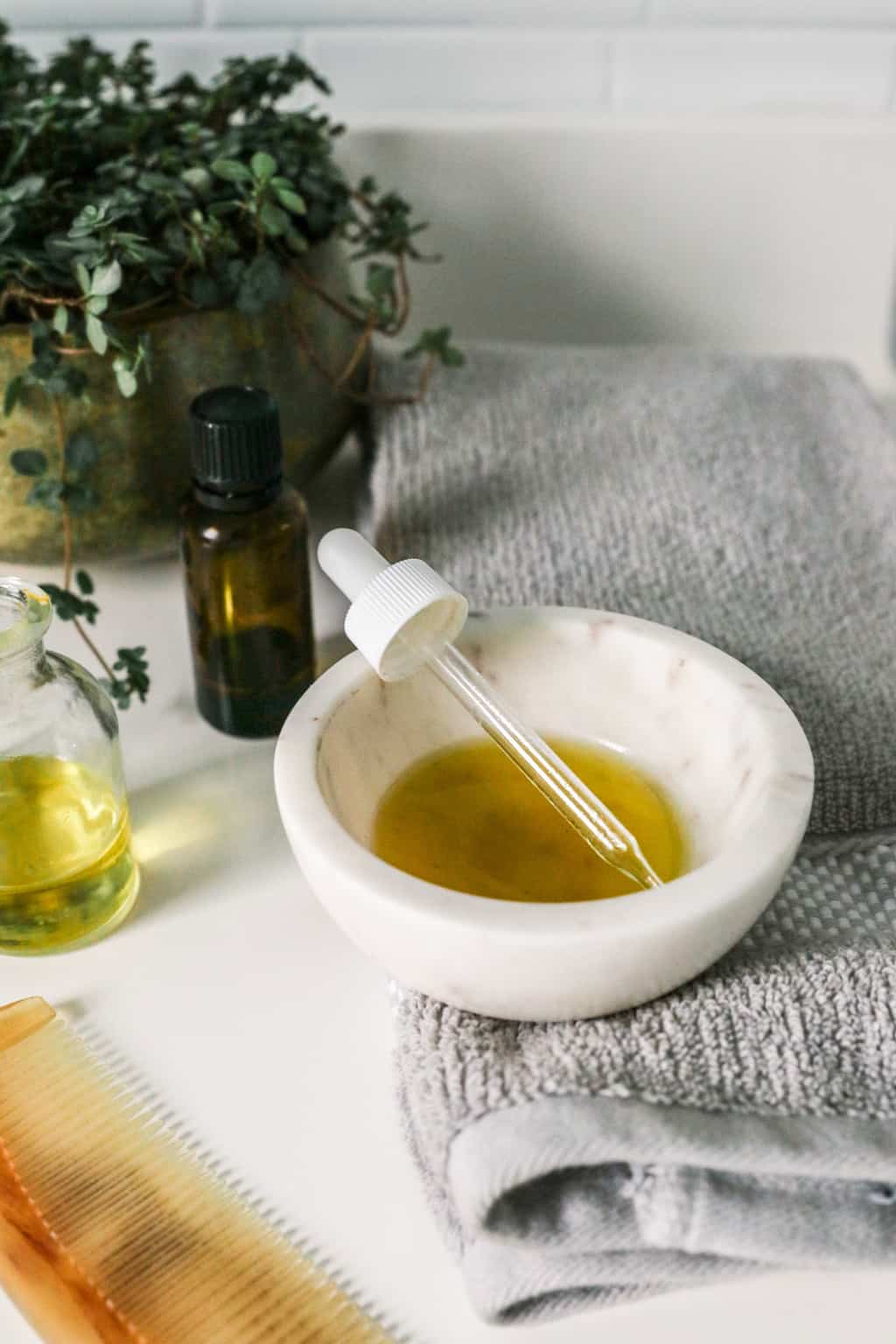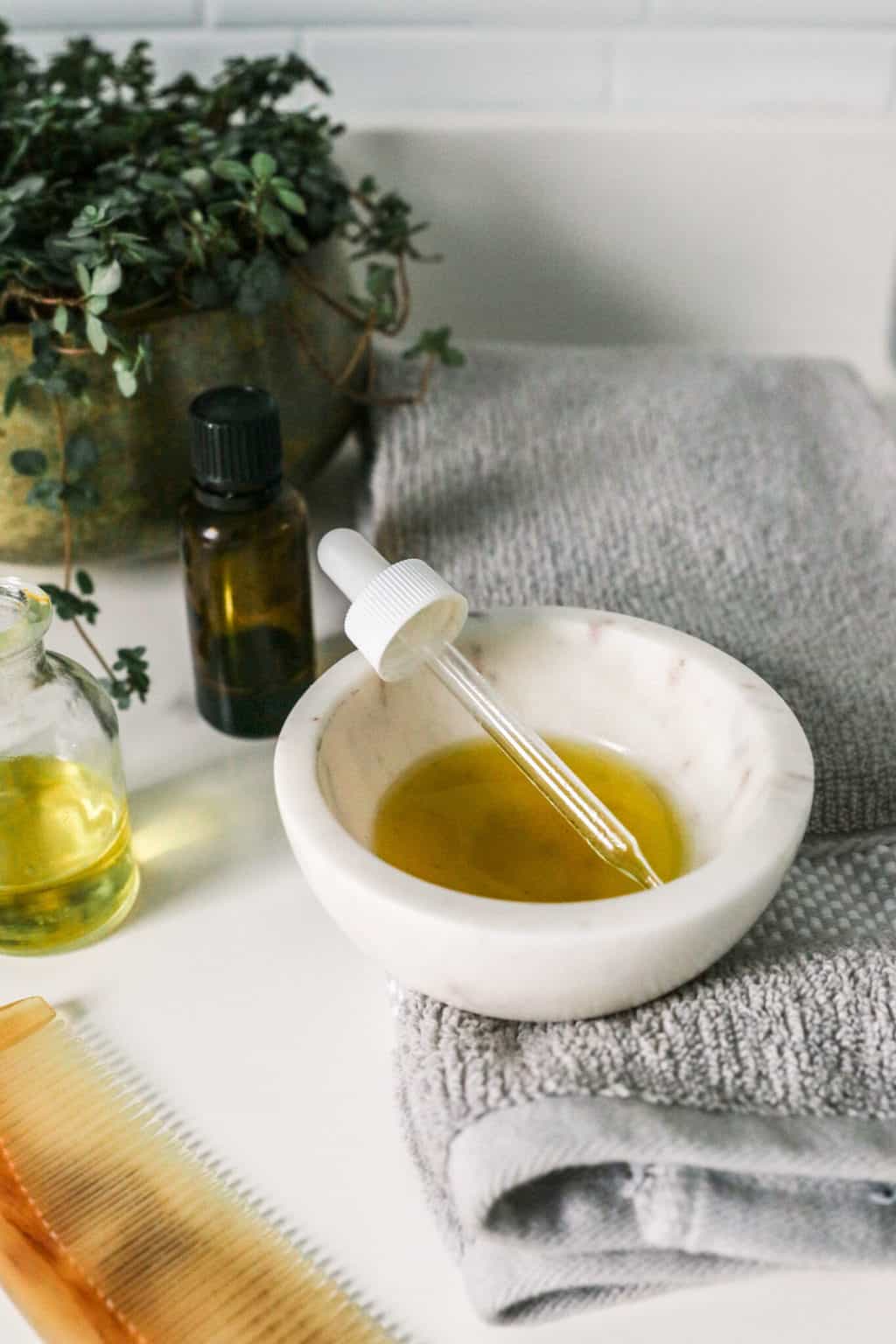 Pre
–
shampoo scalp cleanse
Researchers have discovered the importance of cleansing the actual scalp—not only the strands of hair, which has led many brands to create what's known as pre-shampoo.
"A scalp pre-shampoo treatment is any product that may be oil, cream, or serum based and contains all of the nutrients and balance the scalp needs while providing a layer of protection from being overly stripped or disrupted by a shampoo," explains Hill.
Make a simple scalp oil by adding 6 drops of rosemary essential oil to one tablespoon of jojoba oil. Hill recommends applying a few drops to the dry, uncleansed scalp and roots and massaging for 3–5 minutes. Hint: Store in a bottle with an eye dropper so it's easier to apply.
"It can be left overnight and shampooed out the next morning, but if time is a factor, you can wait 15–20 minutes before shampooing and conditioning," she adds.
Pre-shampoo for ends protection
Applying jojoba to the ends of your hair before shampooing—for 10 minutes or overnight—can help protect strands from the drying effects of water and shampoo. Don't shampoo the ends of your hair to avoid stripping your natural oils.
Lock in moisture after washing
After showering, apply a small amount of jojoba oil to the ends of damp, towel-dried hair. Water fills in the pores of dry hair, and waxy jojoba oil sits on top of the hair shaft to seal moisture in and protect against friction damage. And as the hair dries, it will absorb the oil to add further hydration.
Jojoba Oil FAQs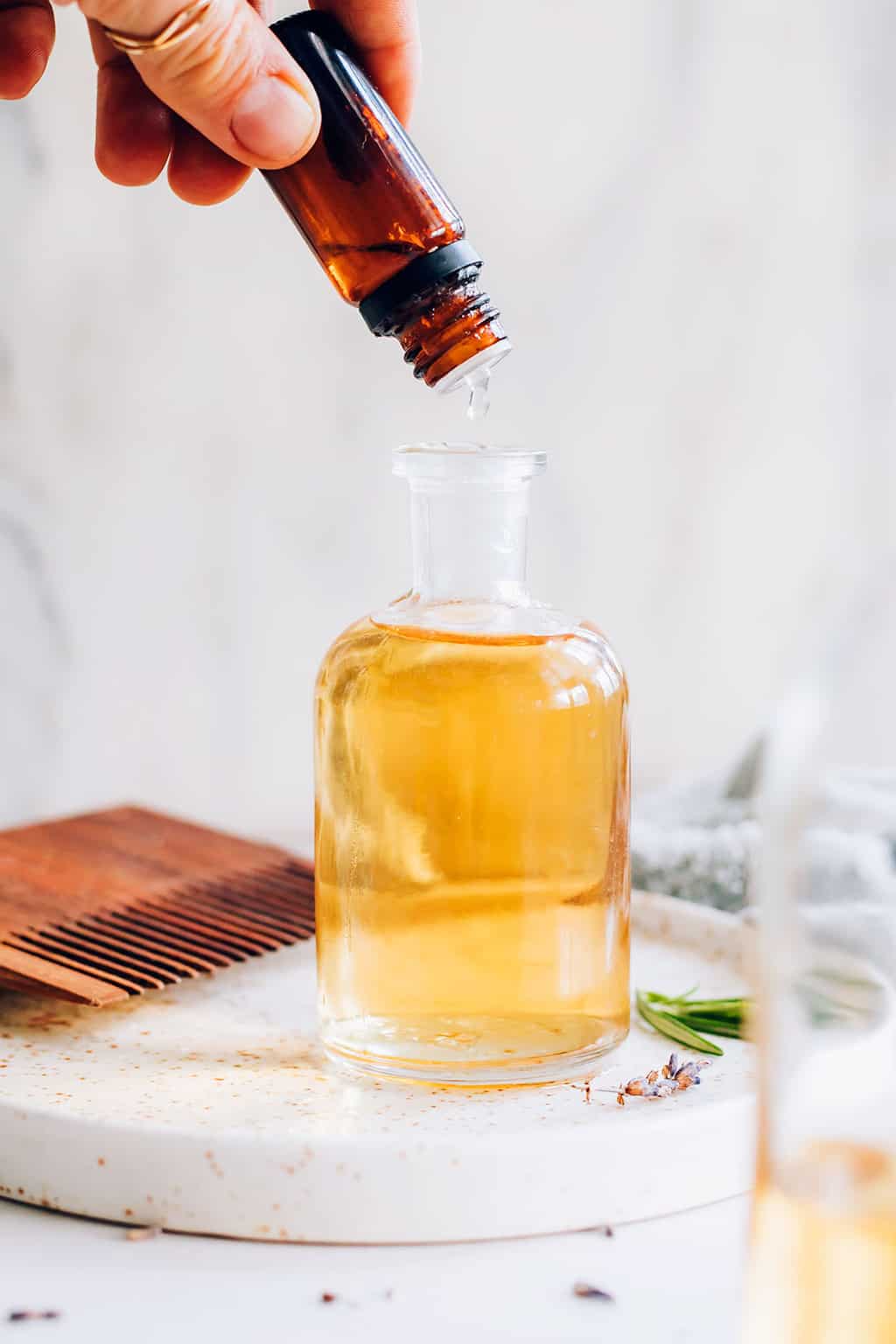 How do I apply it
?
To apply, put a small amount of oil—start with 2–3 drops and work up if needed—in your palm and rub your hands together. Then comb your fingers through the ends of your hair. You can apply both before and after showering.
For scalp issues, apply directly to the scalp and leave on overnight before washing.
How often should I apply it
?
Using oils on your hair requires some experimentation because everyone's hair is different. People with coarse hair can apply larger amounts more frequently, even before and after every shower, and never feel greasy.
However, fine hair types may only need a drop or two to avoid weighing down the hair. If your hair still feels greasy, scale back to applying before or after every 2 to 3 showers. After a little trial and error, you'll find the amount of oil that works for your hair.
Should my hair be wet
?
Short answer: Either works! Jojoba oil will sit on top of your hair to hydrate and protect whether your hair is wet or dry, so do what works best for your haircare routine.
Should I be worried about buildup
?
Yes and no. If your scalp is already oily, then adding more oil can lead to buildup. If your scalp is dry, the oil can help cleanse and hydrate. Try using a scalp scrub once a week. It can help dislodge flakes from dry scalps and also cleanse buildup on normal scalps.
How do I get it out
?
Fine or thin hair types often have more trouble removing all of the oil while cleansing. One trick we love: before you get into the shower, apply a bit of shampoo to your dry scalp and massage it in. Rinse it out when you get in the shower and shampoo the hair again.
Can I use it on my face
?
Yes, and because jojoba is so similar to your skin's natural sebum, it won't clog pores, making it a good choice for oily or acne-prone skin. Combine it with grapeseed and marula oils for oil cleansing or a face oil recipe.
Can I use it with essential oils
?
Yes, jojoba makes an excellent carrier oil to dilute essential oils.
What else can I do with jojoba oil
?
There are so many ways to use jojoba oil! 
Here are a few DIY products to try:
bath oil
body oil
cleansing balm
nourishing facial cream
facial oil
hair mask
hair oil
makeup remover
shaving cream
Best Jojoba Oil Haircare Products
Here are some top recommended haircare products to try if you're looking to take advantage of all of the hair benefits jojoba oil has to offer. 
Jojoba Herbal Scalp Treatment
Badger's products are known for their all-natural and organic ingredients, so it's no surprise they have a jojoba oil-containing hair product that wins with reviewers. This one contains a synergistic botanical blend of jojoba, sunflower, and peppermint oils, along with rosemary and tea tree essential oils to stimulate hair growth and nourish strands from the root. It's free of harmful ingredients, from parabens and dyes to GMOs and fragrances, although it does have a delicious, natural scent customers love. 
Pureology Hydrate Shampoo
Quia Querisma, a professional hair stylist and curly hair expert based out of Dallas, is a big fan of this line because it contains jojoba oil along with green tea and sage, which leave the hair soft, moisturized, and manageable. It's sulfate-free and hydrating, making it a great addition to the haircare routine of someone who processes or colors their hair. It is 100 percent vegan and contains less than 1 percent synthetic fragrances, which is not a lot. 
Mizani 25 Miracle Nourishing Hair Oil 
Here's another one of Querisma's top-recommended products—a lightweight hair oil formulated with jojoba, olive, and sunflower oils. "This is the perfect finishing product to smooth frizz, add shine, and break up a product cast after diffusing curly hair," she says. When it comes to this hair oil, a little goes a long way. So you can expect this small bottle to last you at least 6 months—even with regular use. 
Juice Beauty Repairing Hair Mask 
If you're looking for a deep-conditioning mask to nourish your dry tresses, look no further than this one by Juice Beauty. Formulated with organic coconut, plant protein, and vitamin B5—thanks to a blend of oils, including jojoba, boreseed, and argan—this treatment mask works hard to deliver impressive results. It's great for all hair types but especially useful on damaged or color-treated hair. 
Pattern Jojoba Oil Hair Serum
This just might be the best-smelling product in your haircare collection but also one of the most useful. It contains a blend of oils, including jojoba, rosehip, safflower, olive, and lavender, so it's easy to understand why it smells so darn good. It's especially ideal for dry and curly hair types, as it locks onto the hair strands to provide protection against breakage.