My small modular project
For many of us, 2022 was a challenging year due to high inflation. The sudden steep increase in energy prices surprised us all and heightened our awareness that Europe is too dependent on fossil fuels such as oil and gas. Therefore, postponing energy transformation to replace fossil fuels with green energy is no longer an option.
Home energy consumption had been on my radar for a while. Two years ago, I invested in 14 solar panels good for 4 MWh of annual energy, reducing my electricity bill by 1.000 euros per year. So far, so good; however, what I didn't foresee was the ridiculously steep increase in gas prices. To become less dependent on gas, I decided to invest in an air conditioner system with smart operations because the system is efficient in both heating and partial cooling of the house. Usually, I can use the air conditioner system standalone, but if it freezes outside, the system needs support from the central heating system. To combine the two systems, I added a smart thermostat to the central heating system.
Suddenly, at the age of 58, I was a gadget guy with multiple smart modules in my house. Even my kids were astonished, although they still think I am an old-fashioned person. With one problem solved, I had another problem—the integration of these multiple smart modules. A friend recommended Google Home, an ecosystem to integrate different Internet of Things modules, including, in my case, the smart thermostat, the radiator knobs, and the air conditioner. Surprisingly, I was able to integrate multiple modules and configure different scenarios to manage my energy bill successfully. Although Google Home is not flawless, I see the need and potential of this type of ecosystem.
I see the same scenario happening in our industry that has occurred in my home. Let me explain why.
Our industry is changing
The industry in Europe is heavily impacted by high natural gas prices. If we are careless with our industry, energy-intensive sectors will leave Europe and will likely never return. Many companies have already stopped production or closed locations. European industry accounts for approximately 50% of all energy consumption. Therefore, Europe must guide its industry away from fossil energy to renewable electricity and fossil-free hydrogen, also called green hydrogen.
Green hydrogen is generated by renewable energy or from low-carbon power. Green hydrogen has significantly lower carbon emissions than grey hydrogen, which is produced through fossil energy. Especially for energy-intensive sectors, green hydrogen is key to decarbonising. Before green hydrogen becomes mainstream, the European industry must start transforming and preparing to use hydrogen as a primary energy source. Meanwhile, countries in collaboration with the industry must start building hydrogen hubs alongside new hydrogen plants. With EU support, a network of new green hydrogen plants should exist in many European countries.
Green hydrogen modular plants
Green hydrogen from renewable energy is generated using water electrolyzers, which is a highly energy-intensive way to split water molecules into their component parts (hydrogen and oxygen molecules). Green hydrogen is not new, but large-scale hydrogen production is a relatively immature field that requires substantial investments in knowledge, technology, and money. With more plants, the technology and knowledge mature with better efficiencies, longer operation times, higher plant availability, and ultimately, a lower cost. Achieving these objectives will be a journey.
Green hydrogen's largest single-cost component is the renewable electricity expense to power the electrolyzer unit. The price of green energy will likely drop over time; however, remaining competitive will require a strong focus on operations and maintenance efficiency and flexibility. Because a green hydrogen plant setup is so different from a traditional hydrocarbon production plant, existing strategies cannot be copied. Talking with multiple hydrogen companies, I am concerned that design teams may think too lightly about new operations and maintenance strategies or even consider delegating such responsibilities to the EPC contractor.
From a hydrocarbon process industry perspective, green hydrogen plant automation is different because there is no main process to automate. A green hydrogen plant is composed of multiple modules, such as an electrolyzer system, voltage system, compressor system, and water system. During a plant's construction, these modules are delivered individually and must be integrated. Most modules are delivered with individual controls and perhaps a safety system, and replacing all these automation systems with one central control and safety system would not make sense. However, we must determine how to integrate and operate all these systems.
Autonomous operations
Since most green hydrogen projects are still in the design phase, a unique opportunity exists to develop a plant with a next-generation operations and maintenance strategy. Yokogawa calls this autonomous operation, an environment with minimum human intervention and automatic adaptation driven by data. This doesn't mean end-to-end autonomous operations across the entire plant from day one. Based on priorities and criteria, design teams can decide which processes will operate autonomously and where human intervention is required. Over time, plant autonomy can be increased. Whatever the maturity level, sensors and automation create the foundation of autonomous operations.
Additionally, to control operations, real-time monitoring of performance indicators, such as energy consumption, asset performance, production rates, purity, energy feedstock, and storage, are required to ensure efficient production. For extensive monitoring, sensors such as pressure and temperature transmitters from the different systems must be collected, and sensors must likely be added because new plants have insufficient sensors for predictive or prescriptive maintenance. Prescriptive maintenance uses sensors, data, and analytics to determine the root causes of potential failures so that specific corrective action can be prescribed. For less critical assets, additional sensors are often missing but are required for proper monitoring of the complete plant with minimal human intervention. Besides smart sensors, smart algorithms are required for deep analysis to detect potential failures and to understand root causes. Many of these algorithms are still under development or need customization. People involved with such algorithm development are located in multiple locations. Therefore, a collaborative environment such as the cloud is required instead of developing and running these algorithms on-premise.
An edge system
To merge modular systems and plant performance monitoring, a traditional supervisory control and data acquisition system (SCADA) or Distributed Control System (DCS) is no longer sufficient. Per the Purdue enterprise reference model (ISA-99), both systems (SCADA and DCS) are not designed to simultaneously achieve both vertical and horizontal data integration. Horizontal integration refers to the combination of the different systems on-premise with the electrolyzer system, the compressor system, and the voltage system as the main systems. Often, these systems have different interfaces/protocols such as UPC UA, Profibus DP, Modbus TCP/IP, or IEC61850. Vertical integration refers to integration with the business domain, cloud, or remote center where cybersecurity is crucial in supporting different architectures and protocols. A typical interface with the cloud is, for example, MQTT.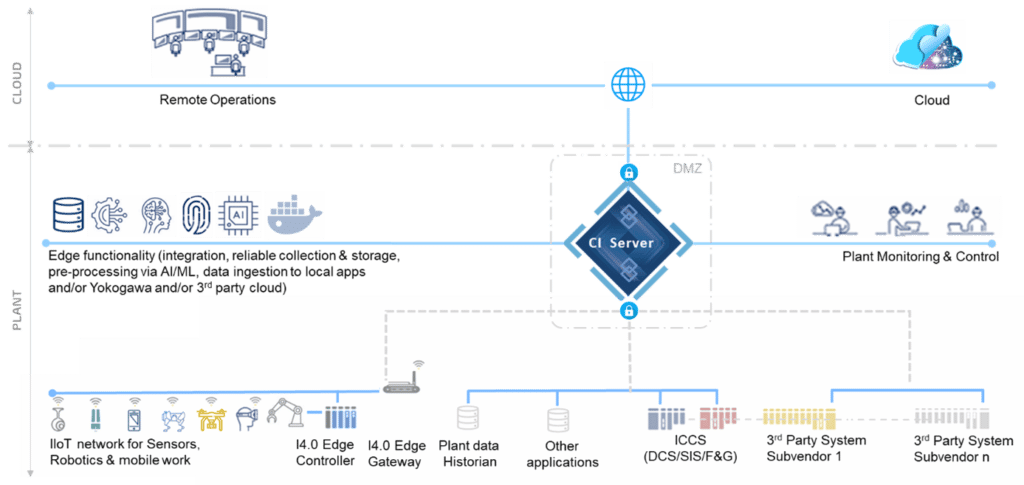 For large sites, horizontal and vertical integration are often separated through different systems. However, for a green hydrogen plant, separate solutions are too complex and expansive. For this reason, companies such as Yokogawa have developed an edge server specifically designed for vertical and horizontal integration such as the integration of the cloud, a remote center, and even the industrial Internet of Things devices. Integration doesn't only refer to data and Human Machine Interface (HMI) but also to alarms and safety. To operate the plant efficiently and safely with a minimal number of operators, or even remotely, the operators must have one unified interface that includes the integration of alarms and safety overrides from the different systems (modules).
For a cloud environment running specific algorithms, much of the data and messages collected by the edge system on-premise must be sent to the cloud for analysis, with results returned to the edge system to inform the operators. Summarized, the edge system becomes the modular plant's data hub.
Now you know why
Like my small project at home, a green hydrogen plant has multiple systems that require integration into an ecosystem for efficient and safe operations. For the integration of the different energy systems at my home with Google Home, the solution was relatively straightforward and accomplished with the support of friends. However, modular plant integration is complex; therefore, to ensure efficient and safe operations, I highly recommend writing a master plan in which an operations and maintenance philosophy is described and translated into an automation strategy. Other reasons for having a master plan include:
The automation of modular plants is new, so limited blueprints are available.
Multiple stakeholders are involved, such as the owner, cloud provider, EPC, and vendors of the different modules.
Because of the many stakeholders, one strategy is required for operations, maintenance, safety, automation, integration, and cybersecurity.
Recently, Yokogawa has been awarded for the automation of multiple green hydrogen projects in which our edge solution is the ecosystem to integrate the different modules, the business environment, the cloud, and the operations remote center. Some projects are still in the design phase, in which we help customers develop a master plan. The plan must be ready before EPCs and vendors are invited for the tender process to ensure that all parties comply with the company's master plan.
Maybe I am an old-fashioned person who is not deeply invested in new gadgets, but when the circumstances at my home changed due to high energy prices, I had to investigate how gadgets could help me manage my energy bill. I see the same process happening in green hydrogen modular plants  in general. Traditionally, the automation world is conservative, and we don't like too many changes—just like an old-fashioned person. With the introduction of modular plants, we must start changing the automation strategy. Technology, such as the Industrial Internet of Things, edge, and the cloud, are all available, so we all must change, similar to the old-fashioned person who wrote this article.
Source link

#green #hydrogen #disrupts #industrial #automation