If you've got a car just sitting around idle, wouldn't it be nice to put it to work earning money? You can, with a handful of services that let you make money by renting out your car.
Just as you can rent a room or your home through Airbnb, you can do the same with your car.
According to AAA, the average cost to own a car is almost $9,000 a year. Renting out your vehicle can help you offset the expense.
There are several options for renting out your car. Getting started is not difficult and you can have your car listed in less than an hour in most cases.
Once you have your profile set up, you can let people pay you cash to use your vehicle.
Options for Renting Out Your Car
Each of the services below acts as an online marketplace for renting out your car. Choose one based on your personal preferences, program availability in your area, and the payout amount.
1. Hyrecar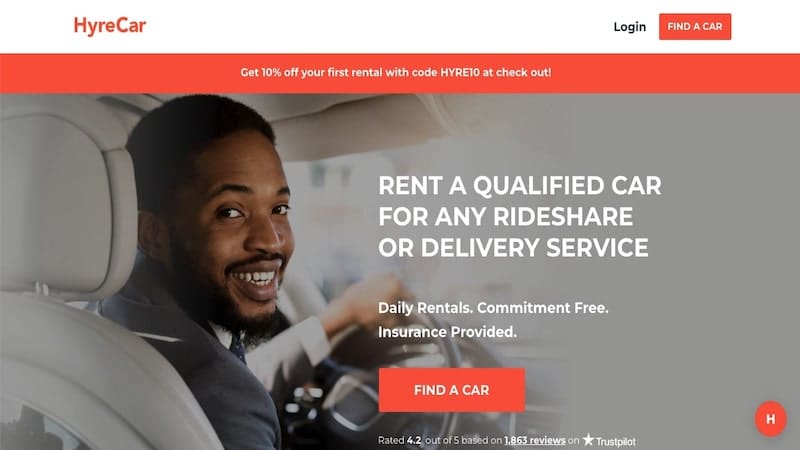 While both Turo targets recreational renters, HyreCar specifically caters to rideshare drivers. This means that your vehicle would be rented and used by Uber and Lyft drivers to ferry around passengers.
According to HyreCar's website, the average car owner makes $14,000 per year renting out their vehicle through HyreCar. This can be a nice chunk of change to earn for letting other people use your car when you're not driving it.
Setting up a listing is free and easy. You'll need to describe your car, then upload some photos, your vehicle registration and inspection documents. When someone requests to rent your vehicle, you'll get a notification.
Try to confirm a request quickly because it will expire after 24 hours. According to HyreCar, drivers tend to book multiple vehicles to increase their odds of getting on the road faster. The first owner to accept a request will get it.
After approving the request, make sure you verify the accuracy of all documents for your car. Insurance is generated 24 hours before pickup unless requested otherwise.
Ensure your registration and vehicle inspection documents are up-to-date before handing over the keys.
Meet Your Renter
Coordinate a meeting time with the renter to complete the transfer. Make sure you verify the person's driver's license, walk around the vehicle, and check the fuel and mileage.
The driver is charged one you approve the request. Your money will be on the way as soon as the renter picks up the vehicle.
When the rental is over, you need to coordinate a pickup time and location. Review your car to ensure everything is in order before completing the handover.
HyreCar says car owners are covered under industry-leading rideshare insurance.
Trustpilot score: 4.0/5
Learn more: Hyrecar Review
2. Turo
When it comes to renting out your personal vehicle, Turo is one of the best-known options — so much so that it's touted as the Airbnb for cars. Turo is available in many U.S. cities and select Canadian provinces.
Listing your car is free and the process pretty simple. Just describe your car, upload some clean photos, and you're ready to get started.
You can use the calendar option to select when your car is available to rent and block out days and times that don't work for you.
When someone requests or books your car, you'll get a notification. Contact the renter with any questions and confirm or decline the trip as soon as possible. You get to coordinate when and where to meet your guest.
Before you hand over the keys, Turo recommends checking the person's driver's license and doing a quick walk around your car. Check your fuel levels and mileage, make notes as necessary and then send them on their way.
Liability and Damage Coverage Included

Turo offers hosts up to $1 million in liability coverage, as well as protection for damage and theft. In addition, your guests have access to 24/7 roadside assistance throughout a trip in the U.S.
Once your guest is finished with the car, meet them at a designated location and make sure everything is in working order. Get your keys back and head on home. You should receive your payout within five days by direct deposit.
Payout is between 65% and 85% of the trip price, depending on the vehicle protection package you select. If you've got commercial rental insurance, you can waive Turo's vehicle protection and earn 90% of the trip price.
To list your car on Turo, it needs to have fewer than 130,000 miles, a clean title, a fair market value of no more than $150,000, and have never have been declared a total loss.
You can also rent out classic cars through Turo. They need to be model years older than 1990, and can have a market value of up to $85,000.
Trustpilot score: 4.6/5
Learn more: Turo Review: Is This Car Rental Option Legit?
3. Getaround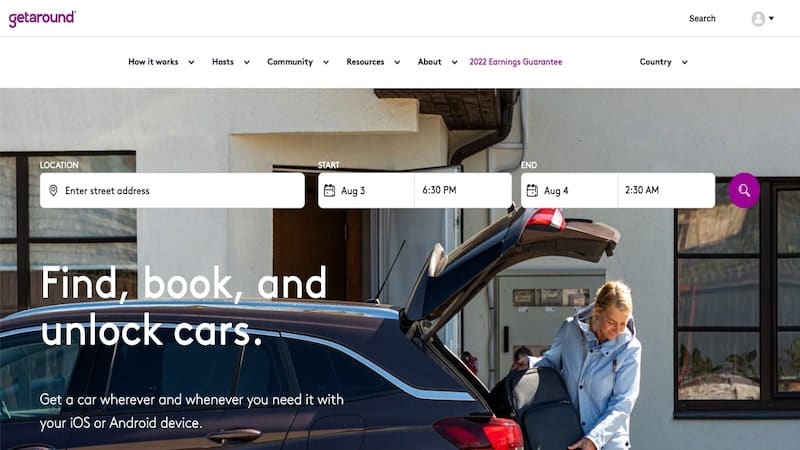 According to Getaround's website, car owners make thousands of dollars per year sharing their cars through the platform. You can earn more than $800 a month renting your car through Getaround.
This means you could make more than $9,600 per year. That's enough to cover your car payments, and then some.
As a Getaround host, you get a $50 monthly driving credit to rent a car through the site yourself. So, if, for example, you have a compact car and need a truck to move some furniture, you can use the credit to get one for free.
As an added perk, Getaround hosts can take advantage of dedicated parking spots in select cities. This can be a great bonus for cities where finding a parking spot is expensive or hard to find.
Your car carries a $1 million primary insurance policy when you rent it out with Getaround. Coverage includes liability, collision, property damage, uninsured motorist protection and theft.
Easy to Use
Setting up your car's profile on Getaround is free. You'll need to come up with a descriptive URL for your car and set the pickup and drop-off location. The calendar feature lets you choose when your car is and isn't available.
Someone from the Getaround team will pick up your car to take high-quality photos for your car's profile. They'll also install a device called Getaround Connect to help renters to locate and unlock your car during rental.
Getaround Connect also has security features like GPS tracking, tamper detection and engine lock.
After a free 30-day trial period, Getaround will charge a $99 one-time install fee and $20 a month thereafter.
Your rental earnings accrue monthly and you get paid by the 15th of the following month. You'll get 60% of your earnings from renting out your car.
Getaround keeps a 40% commission to cover insurance, roadside assistance and a 24/7 help desk.
Trustpilot score: 3.7/5
4. TravelCar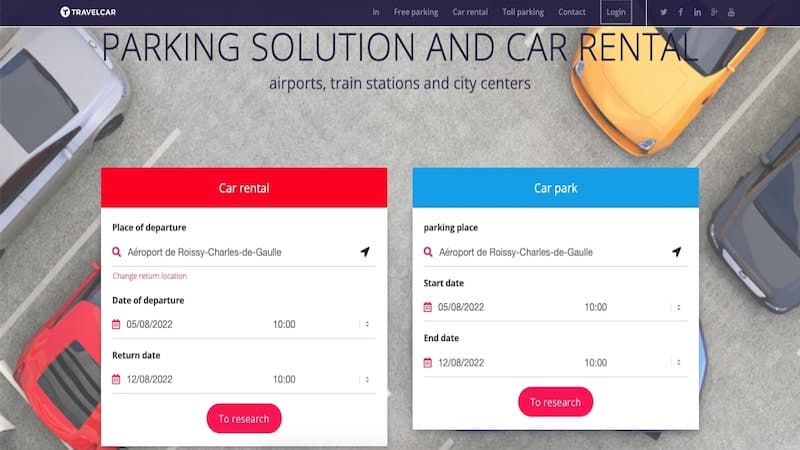 Wouldn't it be great if you could park your car at the airport while you're traveling and make money on it? TravelCar has figured out a way to tap into the potential cars parked in airport lots while their owners are out of town.
The Paris-based car-sharing service rents out your vehicle to other travelers while you're away. In exchange, you'll get free parking and earn money for every mile driven on your car, up to $100.
Your car will also receive a free car wash upon its return.
You'll get $1 million in liability insurance and coverage against theft and physical damage when you rent your car out. Even if your car doesn't end up getting rented, you still get free parking for up to seven days.
Customers who rent a car through TravelCar pay up to 70% less than the cost of renting from a traditional car rental agency, so there's good incentive for them to rent your car.
If you'd rather not share your car, you can still use TravelCar lots and pay the lowest airport parking rates, guaranteed.
Trustpilot score: 4.7/5
5. Avail
Avail is another company that will help you rent your car out when you're traveling. When you park your car in the Avail car share parking lot, other travelers can rent your car out.
You'll earn $20 per day for mid-sized cars, standard-sized cars, and van owners. Large SUV owners will earn $25 per day.
Renters will refuel your car before it's dropped off. Also, your car is covered for up to $1 million in Allstate insurance and is covered for roadside assistance too.
Travelers who borrow your car have a limit of 150 miles per day they can drive. They have to pay extra for any mileage over that amount.
Your car has to be under ten years old, have less than 125,000 miles on it and be in good working condition in order to be eligible to use Avail.
Trustpilot score: Not listed on Trustpilot
How Much Can You Make Renting Your Car?
How much you make renting out your car largely depends on where you live and the demand for your specific type of vehicle. You'll get paid differently for renting out an SUV than you would for a compact car, for example.
The service you use to rent out your car will also affect your earnings. For example, with Turo, you'll earn between 65% and 85% of the trip price.
So, if you list your car for $50 per day, you'll get between $32.50 and $42.50.
Turo offers an online calculator to help you estimate how much you can make renting out your specific car make and model.
As I mentioned before, HyreCar estimates that the average car owner makes $14,000 per year.
What About the Risks?
Renting out your car to strangers may understandably make you nervous. It's bad enough when your friend or child wants to borrow your wheels.
Rental car companies understand people's hesitancy to hand over their keys. That's why they offer large insurance policies.
Renters are responsible for covering the price of the policy, often in excess of $500,000, before getting behind the wheel. If the car gets damaged, the renter is pays a deductible and the rental company works to get your car fixed.
In most cases, the rental company will ensure that you and your car are protected.
For example, Turo offers three vehicle protection plans for hosts: "Premium," "Standard" and "Basic." All three plans provide up to $1 million in liability protection but differ in how things like exterior wear and tear are covered.
Insurance Required
The level of protection you select for your vehicle affects what percentages you'll receive as payout for renting out your car.
If you decline Turo's protection plan, you must provide commercial insurance verified by Turo before listing your vehicle on their site.
Related article: 15 Best (And Cheap) Auto Insurance Companies
Concerned about renters who smoke in your car or leave it dirty? Fear not, the rental service charges a fee to have your car cleaned and detailed.
Things to Keep in Mind Before Renting Out Your Car
Now that you have some basic information about renting out your vehicle, let's look at factors you should consider when renting out your car. Each car rental service is different, including different customer bases and rules.
Read all of the fine print before you list your car with any of these online marketplaces, so there are no surprises. Also, make sure you're comfortable with the insurance coverage you have with the company.
It's good to get familiar with the coverage you receive when renting out your car. Look at what qualifies as a covered peril during the reservation period as well as the requirements to have the renter be responsible for the damage.
In many cases, you'll need to provide clear photo documentation within 24 hours of the end of the trip. You'll want to be able to demonstrate that the damage occurred during the trip.
Make sure you have up-to-date photos of your car exterior and interior on file before renting out your vehicle.
Having documentation can help you showcase neglect or damage from the renter if you get your car back in less than stellar condition. Taking before and after photos is the fastest way to get your case resolved and your car repaired.
Summary
The idea of renting out your car is similar to renting out your home. There are several ways to make money with your car. If your vehicle is not getting much use, letting a third-party service such as Turo rent it out can mean extra money in your pocket.
If you're not comfortable renting out your car on a regular basis, you could get paid for driving your car. This route is less hands-off but still a great way to make money with your car.